High Quality Heat Pump Installation & Replacement in Mason, OH
Let's face it, Ohio weather can be unpredictable. The crisp cold winters and hot, humid summers in Mason make having a functional HVAC system a necessity. Heat pump systems can offer a great solution for homeowners' year-round HVAC necessities, offering energy efficiency and high levels of comfort! When the time comes to install, maintain, repair, or replace a heat pump system in your home, you'll want a professional who can perform the task quickly, properly and affordably with minimal disruption to your life. You want a trusted HVAC expert from Mason Heating & Air. Mason Heating & Air is your Mason, Ohio heat pump team of experts. We have installed numerous heat pump systems in Ohio and we specialize in the maintenance, repair, and replacement of all types of heat pump systems. There's not a brand of heating equipment we can't fix.  Call us today if you're ready to have a seasoned, licensed HVAC technician come to your home.
(513) 496-2477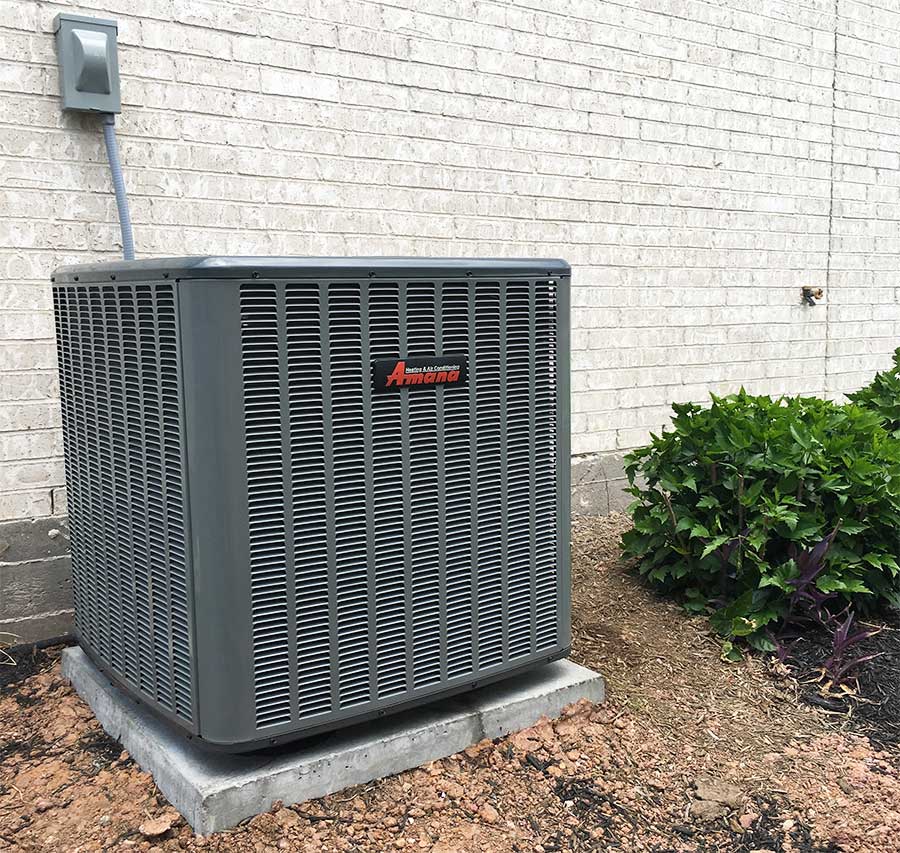 Although they're called "heat pumps" these HVAC units aren't merely for heat. While heat pumps do provide some heat, they also cool homes and buildings. Because of this, this single HVAC system can be used for both winter and summer weather. Additionally, heat pumps are also energy-efficient and environmentally friendly. In order to give you with that year-round comfort, heat pumps use an air handler inside. The equipment outside the home, however, looks very much like a residential air conditioner. Like an air conditioner, heat pumps cool the home using refrigerants. To give homeowners heat during the winter, heat pumps extract heat from either the air or the ground and transfer it inside. During the summer, the unit extracts the heat out of your indoor air to cool the home. Call us today if you're ready to have a seasoned, licensed HVAC technician come to your home.
Signs You Need to Replace vs Repair Your Heat Pump in Mason, OH
Homeowners with an aging heating and cooling system typically ask themselves: how do I know when is it time to replace a unit rather than simply repair it?  This is a commonly asked question of all homeowners. The answer depends. Typically, a heat pump does not need to be replaced, but there are times when it does.  Here are a few indicators that a heat pump may only need to be repaired rather than replaced:
The repairs are not very expensive, or they are minor
The heat pump has not yet needed any repairs in the past.
The heat pump isn't 10 years old yet.
The heat pump merely needs to have the dirt and dust accumulation removed.
Get a Free Estimate on a New Heat Pump in Cincinnati, OH
Because we are a Five Star Rated business with an outstanding customer service history, we at Mason Heating & Air make the entire heat pump replacement process as quick and easy as possible. Our highly trained technicians have installed numerous heat pumps which we guarantee a Five Star Experience. At Mason Heating & Air, we are a family-owned, Five Star Rated, company with a deep-rooted history of satisfied customers. Our level of expertise and professionalism is unmatched when compared to our competitive pricing. We believe in keeping families safe and comfortable throughout the year and we strive to make that possible for every family, regardless of where you live or what your budget is.
Five Star Rated Customer Service
Top of the line systems with the latest technology
Fast and affordable installation
Finance options
Buy Today, Pay Over Time With HVAC Financing in Mason, OH. 
At Mason Heating & Air, we offer our customers in Cincinnati, Ohio and the surrounding areas several credit options and special HVAC financing options to fit any budget regardless of your credit score. Keep in mind; there are certain things within your household that you should not DIY, and when it comes to your home's HVAC system, it's best to trust the experts. If you are struggling to find affordable financing for your HVAC repair or installation, we encourage homeowners to contact Mason Heating & Air and check out our financing options. 
Trust The Experts at Mason Heating & Air
Our Vans Are Fully Equipped.
When you schedule services with Mason Heating & Air, you're guaranteed that we'll show up on time with a service van fully stocked with all the latest in HVAC technology. We come prepared to repair or replace virtually all system parts, including blowers, switches, pilot lights, control boards, air filters, heat exchangers, heat strips, and more!