The Best Cooling and Air Conditioner Repair in Mason, Ohio
There's no doubt about it: making repairs to your air conditioning system isn't fun to deal with. This is the case especially if your air conditioner breaks down during some of the hottest days of the year. At Mason Heating & Air, we understand this completely and we strive to make it easier on you and your family. Our job is to reduce your concerns about broken air conditioning systems and the effects they can cause.  Our technicians are trained, certified, and licensed in resolving any conditions that might arise from your air conditioner, regardless of age, make, or model. No matter what type of unit you have, or the type of problem, we can quickly and affordably service it or repair it. Let us ease your mind so you can get back to living comfortably in your home. Call us today to schedule an A/C Diagnostic Service Call. If you're ready to have a seasoned, licensed HVAC technician examine your air conditioner.
(513) 496-2477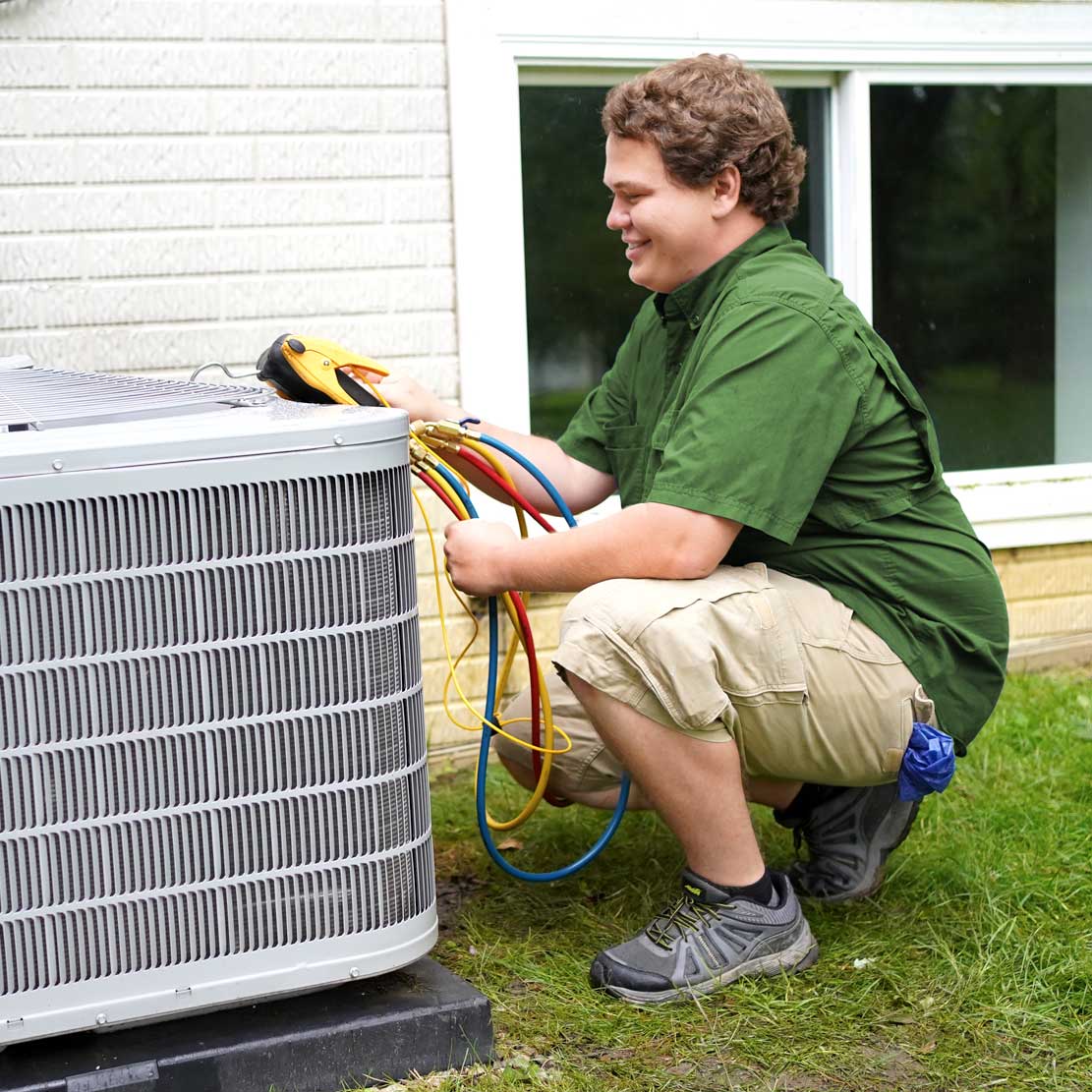 Quality Cooling & AC Repair from Certified Technicians in Mason, OH
At Mason Heating & Air, you're in good hands for your Air Conditioner repairs. Our technicians are seasoned and certified. We do not cut corners or breeze through the process because we want to make sure our customers are happy and their air conditioner is working properly and effectively. Make sure your air conditioning system works reliably throughout the hottest days of summer in Mason. Call us today to schedule an A/C Diagnostic Service Call. If you're ready to have a seasoned, licensed HVAC technician examine your air conditioner. Here are some signs that it might be time to have your system repaired:
Poor Airflow
Loud or Strange Noises
High Energy/Utility Bills
Blower Fan Continuously Running
Hot and Cold Spots In the House
Foul or Unusual Odors
When to Repair vs. When to Replace Your Cooling System in Cincinnati, OH
Sometimes it's difficult for homeowners to determine if their air conditioner needs replaced or simply repaired. While taking into consideration the overall costs of repairs, we at Mason Heating & Air encourage homeowners to consider a few other factors on whether it's time for a new AC.
Is there adequate airflow?
Does your AC take longer to cool your home?
Does your unit make unusual sounds?
Are there warm "zones" in your home?
Does your home feel cool enough?
Do you notice water leakage in or around the unit?
Buy Today, Pay Over Time With HVAC Financing in Mason, OH. 
At Mason Heating & Air, we offer our customers in Cincinnati, Ohio and the surrounding areas several credit options and special HVAC financing options to fit any budget regardless of your credit score. Keep in mind; there are certain things within your household that you should not DIY, and when it comes to your home's HVAC system, it's best to trust the experts. If you are struggling to find affordable financing for your HVAC repair or installation, we encourage homeowners to contact Mason Heating & Air and check out our financing options. 
Trust The Experts at Mason Heating & Air
Our Vans Are Fully Equipped.
When you schedule services with Mason Heating & Air, you're guaranteed that we'll show up on time with a service van fully stocked with all the latest in HVAC technology. We come prepared to repair or replace virtually all system parts, including blowers, switches, pilot lights, control boards, air filters, heat exchangers, heat strips, and more!